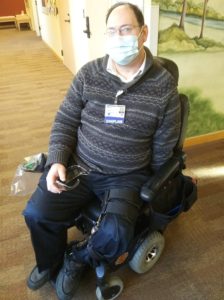 I'm writing this today, because someone very special needs your help.
His name is Mark. And he has been a Rhemata client for the past year. Mark has an incredible story—both his past, and his future! You see Mark has SO much to give to the world!
He is pursuing his divine calling, but he may not be able to serve others without your help today.
Goal progress will be updated as gifts are processed.
AFFLICTED SINCE CHILDHOOD
Mark has suffered from hemidystonia since he was a child. The neuromuscular condition means that he is unable to use his left arm and leg fully. He spent many long stays in children's hospitals undergoing multiple surgeries and long periods of recovery.
In fact, the children's hospital of his youth first inspired Mark to the job of his dreams.
PERSISTING TOWARD EXCELLENCE
Despite having limited function on his left side, Mark has not allowed anything to stop him. As a child Mark played basketball and football with neighborhood friends. He learned to play the trumpet using only his right arm. He became such an avid golfer that he worked professionally with the National Sports Center for the Disabled and other agencies to teach the game to people with disabilities.
Sadly, Mark's body can't always keep up with his mind. He has had to resign from jobs that left him physically and emotionally wiped out. "I was going to destroy myself," says Mark of a job he had to leave. A job that he loved.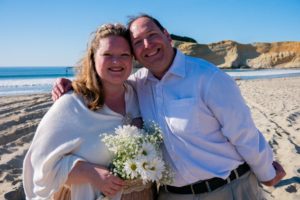 "I feel called to chaplaincy because of my overall background of having grown up with a disability," says Mark. "I know what it's like to face something that is daunting. To be able to tap into those experiences and provide folks with that encouragement means a tremendous amount to me."
But letting his body rest brought a stress all its own. Mark is married with two children, and he worries about supporting his family, just like anyone else. He also longs to find fulfillment and meaning in his work. Like I said, Mark has a lot to give.
CHOOSING CHAPLAINCY
Over the past few years, Mark's calling has become crystal clear. Through the decades, many people and events have shone brightly as mile markers—pointing him toward a career as a hospital chaplain.
Your support today will help ensure that Mark can live his calling.
In pursuit of this goal, Mark has already obtained a Master of Divinity, and is currently working on Clinical Pastoral Education to become a Board Certified Chaplain. He knows it will be a long road that will require perseverance, and a lot of help from God.
"It's something I feel extremely strongly about wanting to do. I feel it is something I can do well, and glorify God, and positively impact people who are going through extremely hard times. I can be a bit of a light in the darkness clouding over them," says Mark. "That is why I want to do it."
WHAT'S STOPPING HIM —AND HOW YOU CAN HELP
Mark needs transportation. He has to use an electric wheelchair at work to reduce the stress on his body, and keep his energy intact for meeting with patients. "Most hospitals are pretty large places. Walking long distances really isn't an option for me," says Mark.
Mark has a wheelchair, but he still needs a large vehicle and a motorized lift to move his chair from site to site. These are necessary basics for someone like Mark. But they are out of his reach.
The cost of acquiring a suitable used transportation system for Mark is $15,000. Please help us reach this goal!
Your tax-deductible contribution to this fund will help us provide Mark with a used SUV style vehicle, and an electric lift and hitch to transport his motorized chair.
With a vehicle equipped for his needs, Mark will soon be blessing thousands of people each year as he cares for them during difficult times.
Without transportation for his wheelchair, Mark may not be able to further his studies, and he certainly won't be able to get a job as a chaplain. Mark's instructors have counseled him that he must be self-sufficient to continue his rounds—and that getting a job without independent transportation just won't happen.
For once in his life, Mark needs some help. He needs you.
Will you consider giving toward Mark's needs today?
Thank you for seeing the light in Mark that deserves to shine! You are making a true difference for this incredible man!
With Gratitude,
Mike Larson
President
Rhemata
P.S. Your gift, large or small is welcome! Donate below to the Destiny Grants fund to support Mark today. Checks by mail can be sent to P.O. Box 1051, Ridgefield, WA, 98642 and should be paid to "Rhemata" with "Chaplain Mark" included in the memo line. And please share this campaign with others. Together we can reach this goal!